in home appliance repair service
 Our in home appliance repair service is convenient for our customers, but should we need to take the appliance away for repair, rest assured that it will be looked at by highly qualified technicians!
Appliance Repair that Makes You Smile!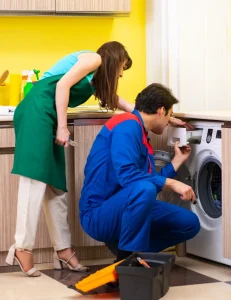 Appliance repair agents 
Faulty appliances can be a pain in the butt. You've spent hours on the internet searching for tips to fix it yourself — but nothing has worked. You're left with no option but to call in an expert.
We're the go-to service providers of washer and dryer repair services, specializing in domestic appliance repair as well as other major home appliances like dishwashers, microwaves, refrigerators, ranges, ovens and more.Read our Blog We are also authorised Samsung repair agents.  
Appliance Repairs - Types Of Appliances
Monday – Friday 7:30AM -5:00PM
Saturday 8:00 AM – 12:00 PM 
Sundays – Closed 
Appliance repairs and Spares