Hisense fridge repair
Hisense fridge repair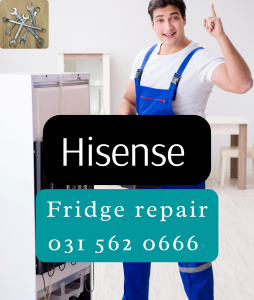 Hisense fridge freezer repair
We know that your Hisense fridge breaking down is an inconvenience, and we're here for you! We have highly skilled professionals who are fully certified (so you don't have to worry about the quality of our service). They can also offer you a relatively affordable rate, so you don't have to worry about it. It's fast, reliable, and of the highest quality. In other words, it's not just a guarantee, but our promise to you. Professional and affordable. Hisense fridge freezer repair in Durban.
Call us on 031 562 0666 to arrange a call out for your faulty appliance. We are authorised Hisense appliance repair agents. TAP HERE to read why you should choose us. Friendly Hisense fridge technician Durban.. 
When it comes to your appliance repair needs, you can trust Smart appliance centre to to have a team of specialists that are trained and ready to handle any repair job.
Best Hisense Fridge repairs Durban
Do you have an issue with your refrigerator? Don't worry, we've got you covered! We'll show you how to fix common problems like water leaks, ice build up, and more.