Fridge and Freezer repair in Westville
Fridge and Freezer repair in Westville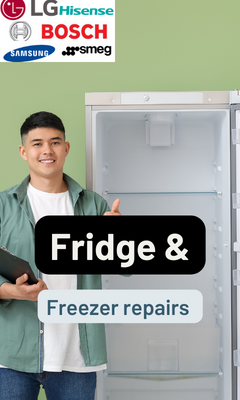 Fridge repair technician 
You live in Westville, but your refrigerator needs fixing? No worries! Our appliance repair technicians will come and service any of your home appliances in the Westville area. Contact us anytime. 
Anytime you need appliance repairs, think of us. We repair all brands, models, and types of appliances. Give our appliance repair centre a call right away – no matter where you bought your appliance. We look forward to helping you. Reliable fridge and freezer repairs. Reliable appliance repair guy Westville. 
Authorised Samsung repair agents. TAP HERE to contact us.
Common Fridge Problems and How To Fix Them
The refrigerator is a great place for storing food, but it also has its share of problems. Here are some common fridge problems that you might encounter and how to solve them.
This is an Alert
I am a description. Click the edit button to change this text.
Professional Fridge repair technician
Are you always wasting food? Have you thrown out spoiled milk and the food in your fridge seems warm? Don't worry – we've got the solution for you. Call our team of Westville fridge repair experts.
Fridge Repair FAQs for Beginners
Fridge repairs are easy to fix, but sometimes they require professional assistance. We've compiled a list of questions that will help you identify when you need to call in the professionals like us!Do you need to replace a refrigerator or freezer? We've got all the information you need to choose the right appliance for your needs. We are a professional Fridge repair technician in Westville.
This is an Alert
To protect yourself and your appliance, you should always contact a professional to repair your appliance.
If you're having trouble with your refrigerator or freezer, there's no need to panic. It's likely that you just need to make some minor repairs. Here's what you should do when your refrigerator stops working.
There are several signs that your refrigerator needs repair. First, check the temperature gauge. If it reads below 40 degrees Fahrenheit, then you need to call an appliance repair service immediately. Next, check the door seals. If they appear loose, then you need to contact a professional right away. Finally, check the compressor. If it sounds low, then you need to take your refrigerator to a professional.
If you notice any unusual noises coming from your refrigerator, check the manual first. Then, call an appliance repair service to come out and inspect the problem.