Samsung appliance repairs
Samsung appliance repairs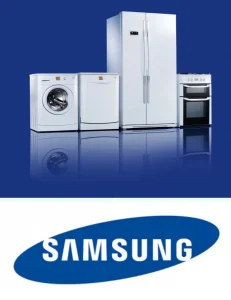 Samsung authorised service centre Durban 
We are a fully Authorised SAMSUNG repair centre in Durban. Contact us for all your needs. 
Repair of Samsung refrigerator 
Our Samsung repair centre has the most knowledgable  refrigerator technicians in Durban. Our service team will handle all you repairs for Samsung refrigerators and more! 
When people think of the Samsung brand, they think: dependability, quality and luxury. We at the smart appliance centre are proud to be authorized Samsung repair agents. We'll help you get your devices up and running again in no time!
Samsung Microwave Repair Service
Microwave repairs are usually quick and easy, but sometimes there are problems that need professional attention. Our technicians will diagnose any problem and provide an estimate for repair.
If you find that your microwave needs to be repaired, our team will arrive at your home within one hour after receiving your call. They will assess the damage and provide you with an estimate.
If you need help with your microwave, contact us today. We will come out to your home as soon as possible and provide you with professional repair services for your microwave. 
Samsung authorised repair
Samsung Dishwasher repairs
We know when a dishwasher is broken, you want it fixed, and fast. We're all for speedy service! And you don't want to spend hours on hold, or downloading an app and filling out a long form to order repair services. Our dishwasher repair agents will be able to take care of your dishwasher problems in no time at all — because we know how important it is to you to get it done quickly!
Official Samsung Services centre
We are the official repair agents for the Samsung brand in Durban. This means that you can call us to fix your faulty appliance no matter where you bought it.
Please note!
While we believe that our advice is sound, we cannot be responsible for any damage to your appliance if you decide to carry out DIY repairs.
Samsung Refrigerator Repair Tips
Samsung refrigerators are known for being reliable appliances that last for years. But sometimes, problems arise that require professional repair. Here are some things to consider when deciding whether to fix your Samsung refrigerator yourself or call in a professional.
Check the Compressor
If there is no compressor noise coming from the unit, then it's probably safe to try fixing it yourself. However, if the compressor makes a loud humming sound, then it'll likely need to be repaired by a professional.
Clean the Filter
To start, make sure that the filter is clean. You should also remove any food particles that might clog up the system. Then, turn off the power to the unit and wait for 30 minutes. Afterward, turn the power back on and see if the problem has been resolved.
Replace the Thermostat.
If the problem persists, then you need to replace the thermostat. This will help ensure that the temperature remains consistent throughout the entire house.
Check the Water Level
You should also check the water level in the refrigerator. Make sure that there is enough water inside so that the ice cubes remain frozen.