Microwave repairs in Ballito
Microwave repairs in Ballito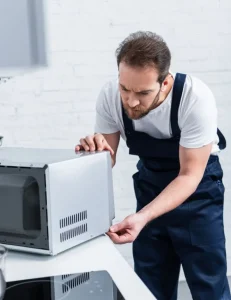 Microwave oven repair service
There are all sorts of problems that microwaves experience. It's important to know some of the most common ones, so you know when to get a professional involved. If your microwave's not heating for no reason, one cause could be a magnetron failure. The magnetron is responsible for the high-voltage electricity that creates the microwave frequencies, which cook the food. Another common cause could be capacitor burn, faulty diodes, transformer failure, or a broken door switch.
No matter where you live in Durban, get Your Appliance Repair on the phone to discuss your microwave repair needs. We'll send our team of technicians to solve your microwave problems. Our experienced specialists have fixed microwaves all over Durban and can handle a wide range of services. We offer the best and most affordable microwave repair service.
TAP HERE to contact us. We are your authorised LG repair agents.
Microwaves - How To Cook With A Microwave Oven
Do you use a microwave oven for cooking? If so, you might be interested in learning how to cook with a microwave oven. This article will teach you everything you need to know about using a microwave oven to prepare meals.