Fridge and Freezer repair in Winston Park
Fridge and Freezer repair in Winston Park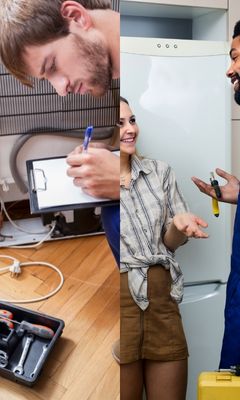 Fridge and freezer repairs
Fridge repair technicians 
Your refrigerator breaks down, and your dinner plans are in jeopardy. To avert disaster, simply call the repair professionals at Smart Appliance Repair to get a technician out to your home and repair your refrigerator. The experts at Smart Appliance Repair are available to respond immediately to your appliance emergency, so don't wait and call now!
Appliance repair and care agency
Our appliance repair team are fully trained and equipped to handle any brand, make or model of your fridge or freezer. Our repair team is guaranteed to leave you smiling.  We have the best appliance repair and care services around! We are professional fridge repair technicians. 
TAP HERE to read our BLOG. CLICK HERE to contact us. We are authorised LG repair agents.
Fridge repairing near me 
Searching online  for fridge repairing near me? Look no further we are here to help! 
This is an Alert
For your safety and your machine's protection, hire a professional repairperson to fix your appliance.
Fridge Repair Tips for the Average Joe
Fridge repairs are easy, and most people can handle them without professional assistance. But, there are some things that require a little extra knowledge and skill. Here are some tips for fixing common problems in refrigerators.
Check the Thermostat
If your refrigerator has an electronic thermostat, check its settings. It should be set at the proper temperature. Also, make sure that the door seals are not leaking air into the compartment.
Clean Out the Refrigerator
You might think that cleaning out the refrigerator would be hard work, but it really isn't. All you need to do is remove everything from the shelves and wipe down the inside of the doors. Then, wash the insides of the doors with soap and water. After that, dry the doors thoroughly.
Replace the Filter
Should there be   any kind of smell coming from your refrigerator, then it's probably because the filter needs replacing. To replace the filter, simply remove the cover at the back of the door. Next, take off the plastic panel that covers the filter. Finally, pull out the old filter and put in the new one.
The Noisiest Fridge Ever! How To Make Your Fridge Quiet Again
Fridges are designed to keep food cold, but sometimes they can create unwanted noise. This can range from low hums to high pitched squeaks that can damage appliances and cause other problems.
This is an Alert
While we believe that our advice is sound, we cannot be responsible for any damage to your appliance if you decide to carry out DIY repairs.
If you notice any cracks or gaps around the door, check them out. You should also make sure that the door gaskets are properly installed.
If you hear a clicking sound coming from the refrigerator, then there might be something wrong with the compressor. This could mean that the motor is damaged or that the belt has broken. In either case, you need to call an appliance repair technician right away.
You should check the manual first before calling an appliance repair service. If you find that the problem is caused by a broken part, then you will need to replace it. However, if the problem is caused by something else, such as a loose connection, then you won't need to replace anything.