Appliance repairs in Winston Park
Appliance repairs in Winston Park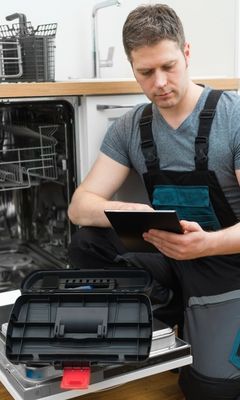 Dishwasher repair service  
We provide quality service at affordable rates. We have been around for over thirty-five years, which means we have been expertly trained and will get your dishwasher, tumble dryer , washing machine , stove or oven repaired in no time at all.
CLICK HERE to view our blog page to get the most out of your appliances. Authorised BOSCH repair agents. Incredible dishwasher repair service. 
Our appliance repair center will service any appliances under the sun that aren't working. If it has buttons, we can fix it. If it isn't working, don't worry – we'll send it back to you better than ever!
Trouble shooting your home appliance
At Appliance Repair Centre, we pride ourselves on providing you with a quality service at competitive rates. We're happy to assist you with any major or minor residential repair and we guarantee that our workmanship is second to none. If you've got an appliance problem, call us today on 031 562 0666 and we'll give you a quote!
This is an Alert
For your safety and your machine's protection, hire a professional repairperson to fix your appliance.
Overheating Troubleshooting Tips for Tumble Dryers
If the thermostat isn't set correctly, the machine will run at an unsafe temperature. You should check the settings before every use.
Lint builds up inside the vent and eventually gets sucked into the heating element. It can cause overheating by blocking airflow. To clean out the lint, remove the front panel and vacuum out the lint using a hose attachment.