Dishwasher repair in Bluff
Dishwasher repair in Bluff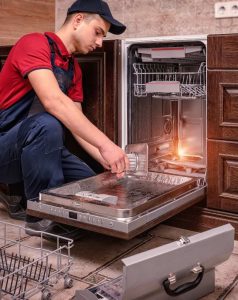 Bluff dishwasher repair
Our dishwasher repair technician will handle all your smeg dishwasher repair problems. With our appliance repair services, we have the tools and knowledge to get any job done quickly and efficiently. Give us a call today!
Appliance repair in Durban
Appliances must be well-maintained if they are to last long. Neglecting your dishwasher may result in a costly repair, so one of our dishwasher repair technicians will be at your door to fix it at any time. Why wait for tomorrow? Call us now!
 We understand that these machines are absolutely essential to our daily lives and we do everything in our power to make sure that you are able to carry on with your daily routine as quickly as possible. We are here for you.  
Dishwasher Problems? Here's How To Fix Them!
The dishwasher is an essential appliance in any home. But sometimes things just don't work right. Here are some tips for fixing common dishwasher problems.
If there is water coming out of the drain line, check the drain hose first. It should be clear and not clogged with food debris. Next, check the drain pump itself. Make sure it isn't leaking. Finally, check the drain pipe itself. Is it blocked? If so, try using a plunger to unclog it.
Another thing to check is the filter. You'll need to remove the top panel of the machine to access it. Remove the screws holding the panel together. Then, pull off the filter cover. Check the filter itself. If it looks dirty, clean it with soap and warm water. Replace the filter when it gets too full.
Fill out the form and one of our dedicated repair team experts will be in touch with  you.  
Factory trained appliance repair technicians 
No matter what dishwasher you own, we can fix it. Our trained repair specialists are comprehensively knowledgeable in repairing all makes and models of dishwashers because we've worked on them before. Affordable dishwasher repair Bluff. 
Follow us on Social Media
Get the most from your home appliance and follow us on social media for helpful hints on how best to care for your appliance. We look forward to being of service to you and your family.