Appliance repair in La Lucia
Appliance repair in La Lucia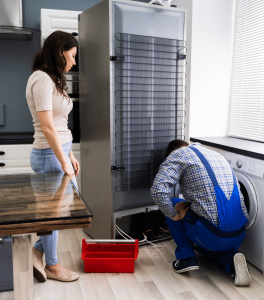 Appliance repairs 
Appliance repairs are our specialty we repair it all. You can count on us always being in your corner! 
Fridge Compressor Broken?
Fridge compressors are used to keep food cold by compressing air inside the refrigerator. They're also used to cool other appliances, such as freezers and water heaters.
If you've got a broken fridge compressor, there are several things you should try before calling a repairman. First, check the power supply to see if it's plugged into a wall socket. Next, make sure the breaker has not tripped. Finally, check the fuse box to ensure no fuses have blown.
If the refrigerator compressor circuit board is damaged, then there is no need to replace it. You can simply repair it by replacing the broken parts. First, check whether the power supply is connected correctly. Then, check the wiring connections. Finally, check the fuse box.
Home Appliances Repair - The Basics of Home Appliance Repairs
This is an Alert
You should always contact a professional before trying to repair your home appliances yourself.
Do you have an old fridge or washing machine that needs repair? We've got you covered! Here, we'll teach you how to fix any problem you might encounter in your kitchen.
Before buying any appliance, make sure you check its warranty period. Most manufacturers offer warranties ranging from one year to five years. Make sure you read the fine print before purchasing.
If you're looking to fix a fridge or freezer, there's no better place than online. You can find instructions for fixing almost anything at home improvement websites. However, some things are easier said than done. For example, replacing a broken door hinge requires special tools.
There are several ways to clean an oven, but the easiest method is to use baking soda. Baking soda is inexpensive, easy to find, and effective. It works by absorbing grease and grime, so it will remove stains from oven walls and racks.
Repair services  
We have been repairing household appliances for over thirty five years in Durban, KwaZulu-Natal. In that time, we have established a reputation as a company you can count on to provide quality affordable appliance  repair and maintenance. We look forward to being of service.
CALL US on 031 562 0666 to arrange a call out. We look forward to hearing from you. We offer the most affordable appliance repair on all major brands. 
We understand that your appliances can be financial investments, so it's important to stay as up-to-date on repair technology and best practices as you can. Our agents are always willing to answer your questions about the latest models — just give us a call!
Follow us on Social Media
Monday – Friday 7:30AM -5:00PM
Saturday 8:00 AM – 12:00 PM 
Sundays – Closed 
Appliance repairs and Spares