Fridge and freezer repair in Glenwood
Fridge and freezer repair in Glenwood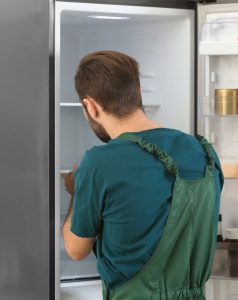 Appliance repair service centre
Our technicians are able to repair any of your home appliances. We have authorised repair agents for top brands like Bosch, Miele, Samsung, Smeg and many more. We repair appliances like tumble dryers, washing machines, ovens, stoves, dishwashers, microwaves, and even washer-dryers for the best possible prices in South Africa.
Why Choose our appliance repair Services?
1. Fast, Reliable Service
We pride ourselves on our prompt and efficient service. Whether you need an immediate repair or a larger project, we can provide expert services in just one visit. Our technicians can diagnose problems quickly and efficiently, so you won't waste time with unnecessary appointments and repairs.
2. We Are Experts
We deliver quick, seamless service that gets your appliances up and running at the earliest opportunity. We've built our business partnerships with major brands so that we have access to reliable resources for products we don't sell ourselves. Our technicians are also factory trained and certified on the brands we service.
3. You are in control
We will schedule a time with you to come out, and then we'll provide a  window of time the day before. This will allow you to know if a technician can visit or not.
4. Great value
If we are unable to repair your appliance you will only have to pay the call-out fee. We want you to get the best out of your appliances. We are a dedicated appliance repair service centre in Durban. 
TAP HERE to read our BLOG. We are authorised repair agents for SAMSUNG 
This is an Alert
To protect yourself and your appliance, you should always contact a professional to repair your appliance.
How To Fix A Refrigerator that Won't Cool
Fridges aren't always reliable, so when yours doesn't seem to be working properly, there are several potential reasons why. We'll cover those in this article.
This is an Alert
While we believe that our advice is sound, we cannot be responsible for any damage to your appliance if you decide to carry out DIY repairs.
Fridge Repair – What Is the Most Common Problem with Fridges?
Your refrigerator is an important part of your home. It keeps food fresh, and helps keep your family safe. But sometimes, problems arise that require professional repair. Here are some signs that your fridge will  might need repairs.
If you see any of these symptoms, then you probably need to contact a professional repair service. These symptoms include: 1) Refrigerator won't turn off after being shut down 2) Refrigerator won't start up 3) Refrigerator door won't close properly.