Fridge repair in Cowies Hill
Fridge repair in Cowies Hill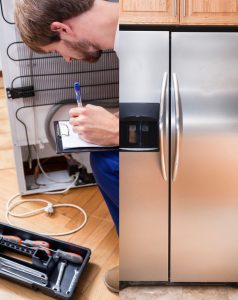 Refrigerator repair in Cowies hill 
Our fridge repair technicians will repair any brand make or model of your refrigerator. That's means no matter where you bought it from you can call us to perform repair services on your appliances. 
Home Appliances Troubleshooting Guide for the Average Joe
This is an Alert
For your safety and your machine's protection, hire a professional repairperson to fix your appliance.
This is an Alert
I While we believe that our advice is sound, we cannot be responsible for any damage to your appliance if you decide to carry out DIY repairs.
Fridge repairs are often necessary when appliances break down. This guide will show you how to fix most refrigerator problems yourself.
Our fridge  repair technician is affordable and friendly. They will answer any questions you have on the brand. 
CLICK HERE to read our blog. We re authorised Samsung repair agents. We offer  affordable appliance repair and installation services. 
Authorised repair professionals in Durban
This is an Alert
We repair all brands of appliances, but the ones we have accreditation for are listed above