Washing machine repair hints and tips
Washing machine repair hints and tips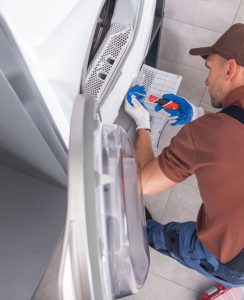 We will repair your appliance in the best possible way.
Washing machine repair tips 
What does the water level switch do?
In short, it monitors the water level of your washer and tells the machine if there is enough water to wash properly. It does this by monitoring the water pressure and when it becomes too low, it gives off an alert. The water level switch does not actually switch anything, but simply alerts the rest of the machine that there is a problem.A defective pressure switch can interfere with the cycles that depend upon the switch to indicate when the water has filled or emptied from the tub. It can also result in underfilling or overfilling of the tub. Reliable washing machine care tips.
Inspect all hoses and tubes for breaks, kinks or damage. The hoses should also be free of water. The hoses should be securely connected to the bottom of both the outer tub and the water level switch.  Professional washing machine care tips.
Washing machine repair 
We are the number one place to go for washing machine and dryer repairs. With our highly-trained repair experts, we have the expertise needed to get your washing machine back to working order quickly and efficiently. With years of experience in dryer repair we can efficiently diagnose any issues you may have with your freezer and resolve them immediately. Friendly and affordable washing machine repair tips  and services. 
If you need any more help with  your washing machine feel free to CONTACT US. We are authorised SAMSUNG repair agents.