Smeg Tumble Dryer Repair
Smeg Tumble Dryer Repair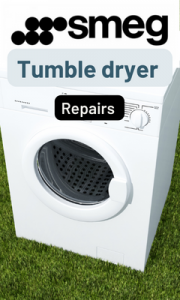 Authorised Smeg repair agents Durban
If you are experiencing problems with your SMEG Tumble Dryer, don't fret. Our team of trusted technicians are here to provide quick, cost-effective repairs with no time wasted. We are qualified to fix any SMEG Appliance.
You want to get your appliances repaired? You can call our helpful team at 031 562 0666. We have the knowledge and tools to fix any kind of smeg appliance. So call us today! To review our repair services please tap HERE 
Smeg Troubleshooting Tips for Your Tumble Dryer
The Smeg tumble dryer has been around since the 1970s, and it still remains popular today. It is easy to use and reliable, but there are times when things just won't work right. Here are some tips on how to fix problems with your Smeg tumble dryers.